Writers Influenced by Mark Twain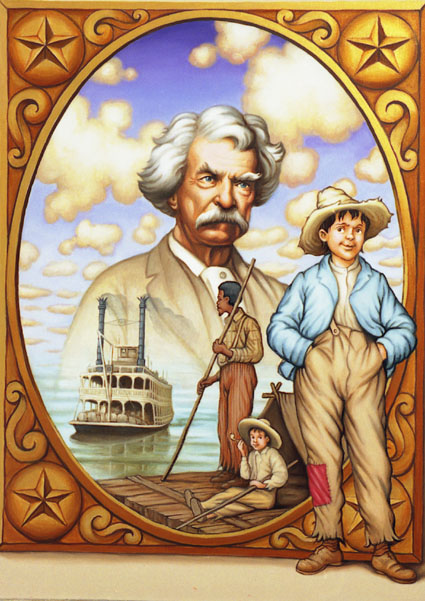 There are many writers who have been influenced by Mark Twain both during his lifetime and beyond it, to the present day. A list of authors that have cited Mark Twain as an influence or hold his writing in high esteem is below, though there are many more authors influenced by Twain than mentioned here. Some authors were directly influenced in certain works, while other authors were influenced with an entire impact on their writing style.
Ernest Hemingway, in Green Hills of Africa


Ralph Ellison


Saul Bellow, in The Adventures of Augie March


Arthur Miller, "Death of a Salesman"


Cynthia Ozick, The Shawl


Kurt Vonnegt, Slaughterhouse-Five


Toni Morrison, Beloved


William Faulkner


Thomas Wolfe


Erskine Caldwell
References
Gribben, Alan. (1989). Mark Twain, 1835-1910. In Charles Reagan Wilson and William Ferris (Eds.), Encyclopedia of Southern Culture (n. pag.) North Carolina: University of North Carolina Press. Retrieved from

http://docsouth.unc.edu/southlit/twainlife/bio.html
Alan Gribben's article is a summation of Mark Twain's career and influences in his writing by the life experiences he had in the South as a pilot and a printer. He writes about the beginnings of the famous writer and the trends that his writing took as his career as an author began to shape itself. Gribbens finishes by pointing out the achievements that Twain had in his career and the effect he had on those who came after him. Please also see Mark Twain: A Brief Biography for more use of this source.
Arts Midwest. (n.d.). Mark Twain's Literary Influence. Retrieved from

http://www.neabigread.org/teachers_guides/handouts/theadventuresoftomsawyer/theadventuresoftomsawyer_handout_1.pdf
This handout, designed for teachers who are going over The Adventures of Tom Sawyer for class units, discusses the various influences Mark Twain had on different authors, providing a list of those who credit him and his work and others who were clearly swayed by his style of writing and his topics. It is a useful tool for those interested in learning about the influences Twain had on those who came after him.

All About Mark Twain Home Page